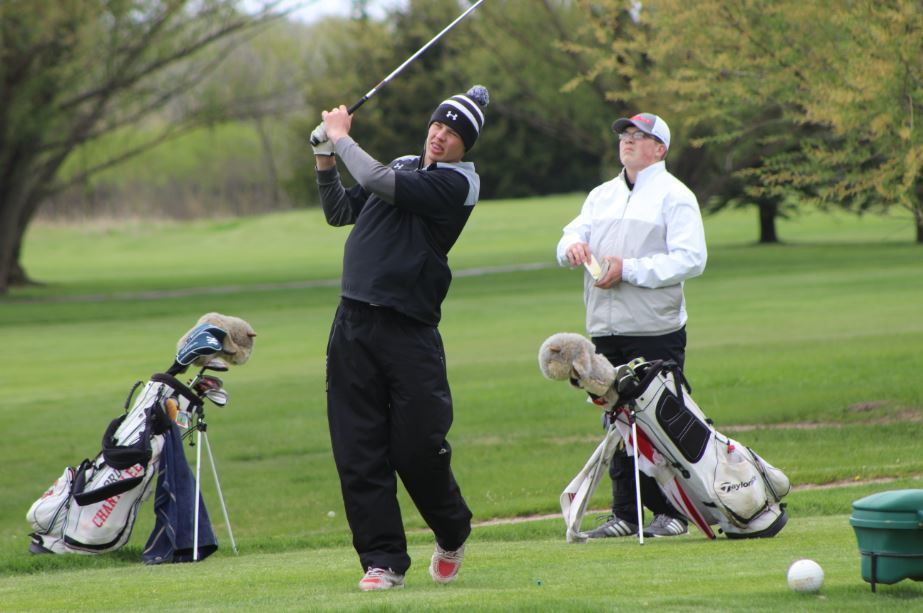 Meyer Wins Fullerton Invitational
Mike Bechtold
Friday, May 10, 2019
Kelen Meyer fired a 2 over par 74 to win the Fullerton Invitational at Pawnee Hills Golf Course in Fullerton. Meyer's 35-39 was good enough to beat Caydon McCracken of Battle Creek by two strokes.
Meyer started the day with an eagle on the first hole after chipping in a 50 yard shot. He was 4 under though six holes after adding a couple birdies. Meyer made a couple bogies on the last two holes but finished the front at -1.
His back nine was steady if not spectacular. His +3 back left him at two over for the day.
Coach Mike Bechtold said Meyer seemed to turn a corner.
"Kelen didn't let any external factors influence his game today," Bechtold said, "It was him against the course and he competed hole by hole. He didn't let the weather, or what others were shooting, or bad luck or bad shots influence his approach. I thought that was a big step for the sophomore."
Meyers score put him 23rd all-time on the list of lowest scores at the Fullerton Invite. He joins several other former Chants on the leaderboard. The Chants have been going to this meet since 2000 and own three of the top 6 all-time team scores at the event including the lowest at 302 in 2006 and third at 307 in 2015.
The Chants finished fourth as a team with a 352. They were 5 strokes behind two teams tied for second.
Coach Bechtold said the team race tells the story.
"We are not able to put all fours good scores together on the same day. When we do that, we may bring home some hardware."
Brodie Darnell shot 90 for the Chants, Ethan Ries and Jesse Ulrich 94 and Trey Warner 106.
Ord also played a dual ALC at Loup City. The Chant varsity won 182-219 and the JV won 220-260.
Ethan Reis and Brodie Darnell shot 45 and Kelen Meyer and Jesse Ulrich 46 for the top team. For the JV, Grady Sheets shot 53, Shay Holm and Cade Geiser 55 and Klancy Bower 57. Other scores for the Chants were Trey Warner at 57, Cooper Sheets at 58, Aaron White at 60 and Tee McKay 72.
The Chants play districts at Indianhead in G.I. on Tuesday the 14th.