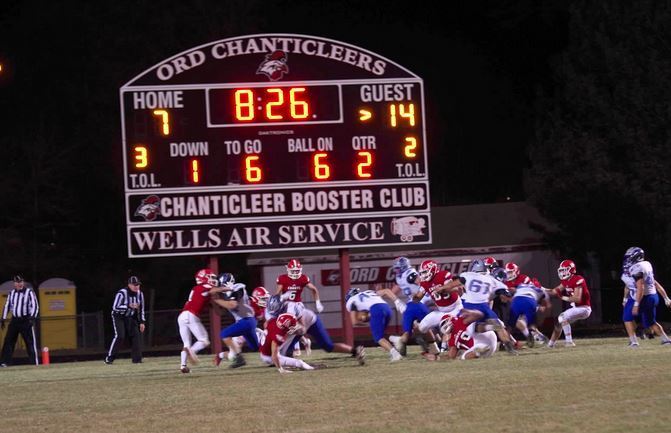 Ord Drops Quarterfinal Matchup, 49-21
Mike Bechtold
Tuesday, November 12, 2019
ORD- The Ord Chanticleer football team stepped into quarterfinal play of the State Football Playoffs as the twelfth seed facing a familiar foe in fourth seeded Pierce. The Chanticleers faced the Bluejays in week three of the regular season, dropping that matchup 28-14. The Chants would face a similar fate on Friday night.
Pierce started out hot, marching on their first drive for a score. The Chants answered right back with a drive of their own, capped with a 19-yard touchdown pass from junior quarterback Zach Smith to junior tight end Bentley Reilly. Pierce managed to score again before the quarter break, giving them a 14-7 lead going into the second quarter.
The Bluejays scored once again early in the second quarter, but junior running back Tommy Stevens returned the ensuing kickoff 92 yards for a touchdown to keep the Chants in it, down 20-14. Pierce scored twice more before the half, giving them a daunting 35-14 lead at the break.
The third quarter lacked on offense with the Bluejays tallying the lone score of the quarter, sending the game to the fourth at 42-14. The Chanticleers put together a touchdown drive that ended on a four-yard plunge by Tommy Stevens to cut the lead to 42-21. The Bluejays managed one more touchdown drive, leading to the final tally of 49-21.
This year's Chanticleer squad was impressive yet again, The Chants made the quarterfinals for the second straight year in a very competitive Class C-1 and they had some astounding individual statistics to go along with it. Junior running back Tommy Stevens ran rampant this year behind a dominant offensive line and picked up 1,521 yards on the year (138 per game) and scored 16 touchdowns with only one fumble. Junior quarterback Zach Smith threw for 1,423 yards and 14 touchdowns this season as well as rushing for 841 yards and 11 touchdowns. Senior wideout Riley Warner paced the receiving corps this year, despite missing the last two games of the season, he accumulated 616 yards on 29 receptions and scored five times. On the defensive side of the ball, junior linebacker Garret Kluthe led the team in tackles (89), tackles for loss (6), and tied with Junior DL Jacob Brown for the team lead in sacks (2). Junior linebacker Bentley Reilly led the Chants in both interceptions and fumble recoveries on the year with two apiece. In the kicking game this year, Kelen Meyer proved to be a weapon, going seven of ten on field goals and making four from 40 yards or more. Meyer also put through 90 percent of his PATs this season.
Quarter…..1…...2…..3…..4……..Final
Ord..……..7.......7......0…..7……...21
Pierce.......14….21…..7......7…......49
Team Statistics
Ord
Rushing- 79, Passing- 110
Pierce
Rushing- 468, Passing- 98
Individual Statistics
Ord
Rushing- Stevens (70), Z. Smith (9), Kluthe (5), Trejo (-5)
Passing- Z. Smith (110)
Receiving- Ries (57), Reilly (19), Stevens (17), G.Smith (10), Trejo (7),
Kicking- Meyer (PAT 3-3)