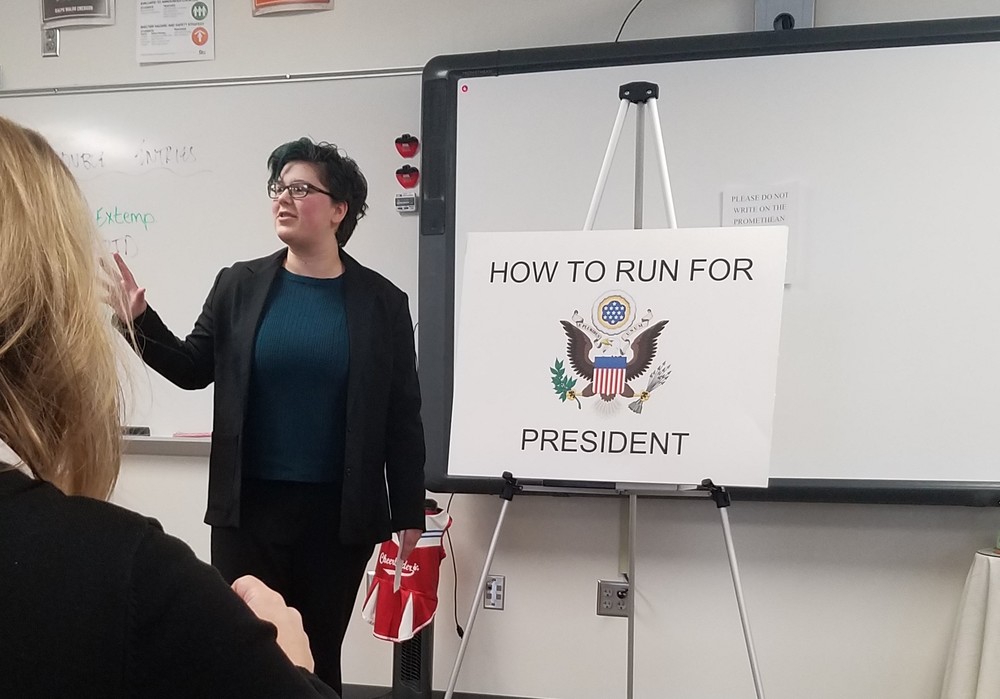 ORD SPEECH TEAM FINDS SUCCESS EARLY IN THEIR SEASON
Mike Bechtold
Monday, January 28, 2019
The Ord Speech season began January 5 and has been competing throughout January to complete the first third of their long season. The 2019 team has 21 members, five of which are returning state qualifiers. "We lost 8 state qualifiers last year, including six medalists" said Coach Ben Lansman. "Having such a large and talented senior class is always tough to endure, but I've been very happy with how our students have stepped up so far this year. We may have lost a lot in terms of numbers, but we will still have some awesome talent." Captains on the team this year are: Richele Masin (senior), Kora Severance (senior), Katie Fischer (junior), and Cooper Sheets (junior). "These four are a key part of our team this year and have helped set the tone for how hard we have to work and what we still have to accomplish. I'm also very happy with how the rest of our team has begun to settle into a rhythm so far. It's difficult mentally preparing for a season that started practicing in December and lasts until the end of March."
On Saturday, January 5 the Chanticleers traveled to Adams Central. Placing at the meet were: Katie Fischer 3rd in Informative, Halle Jacobs 6th in Persuasive, and Richele Masin 2nd in Poetry. On Saturday, January 12 the Chants traveled to Grand Island Senior High to compete at the Central Nebraska Forensics League Tournament with over 500 competitors where they medal the top 15. Placing for Ord was: Katie Fischer 9th in Informative, "Sister Cities" (Abby Jacobs, Katie Fischer, Richele Masin, Addie Sich) 10th in OID, Halle Jacobs 3rd in Persuasive, and Richele Masin 5th in Poetry. In the Novice Division Katie Magiera and Abby Jacobs were 2nd in Duet. "Considering how many people were missing due to illness and other activities, I was extremely pleased with how well we did at CNFL." Said Lansman. "It's a huge meet and takes a lot of work to medal there." The next meet for Ord was at Broken Bow on January 19, which was cancelled due to bad weather.
Saturday, January 26 was the Ord Chanticleer Speech Invite in which 28 schools attended and over 400 students were competing. "Our meet is always fun because we tend to see schools that we have not competed against yet. Plus all our students are able to compete since it is at home without any other activities scheduled." Competing for the Chants in Varsity were: Katharine Wadas 7th in Serious Prose, Mykala Lytle in Serious Prose, Cooper Sheets 5th in Extemporaneous, Ashley Bruha in Extemporaneous and Entertainment, Richele Masin 5th in Poetry, Katie Fischer 1st in Informative and 2nd in Persuasive, Halle Jacobs 8th in Persuasive, Kora Severance in Humorous Prose, Addie Sich and Halle Jacobs in Duet, "Sister Cities" (Katie Fischer, Addie Sich, Richele Masin, Abby Jacobs) 2nd in OID, and "Spaceballs" (Cooper Sheets, Kora Severance, Trevor Vancura, Katie Magiera, Katharine Wadas) 4th in OID. The Varsity Team finished 3rd overall out of 28 teams behind runner up Kenesaw, and Champion Boone Central. In the Novice Division was: Callee Alexander 5th in Serious Prose, Marlee Nebesniak in Informative, Maya Brown in Humorous Prose, Hannah Masin in Humorous Prose, Annie Struckman in Humorous Prose, Leah Westberg in Persuasive, Allison Moudry in Persuasive, and Abby Jacobs and Katie Magiera 3rd in Duet. "All in all, we had a solid day today" said Coach Lansman. "We did quite well considering how outnumbered we were by every other school. Boone is a quality program this year and have lots of numbers and Kenesaw is always amazing competition. I couldn't be more proud of our students improving from where they were in past weeks. I also need to thank my assistant coach Ashley Trampe and volunteer coaches Brian Wamberg, Karlee Severance, and Alex Pinell. Without their help and friendship, we would not be able to succeed. Thank you to the Ord Public Schools administration for their presence and support throughout the day, as well as the awesome job by our custodians who had back-to back-to back events this past week. Thank you to OFAB (Ord Fine Arts Boosters) on the hospitality room and concessions for the day - Valerie Masin and Tresia White did an amazing job! We also had several alumni and community members to help us judge and work the event. It is so fun to have former "Speech family" back to help us out! This event does so much for our community and I want to say thank you to everyone who helped play a part."
The Chants next compete at Crete on Saturday, February 2, Conference competition on Wednesday, February 13 in Gibbon, and Loup City on Saturday February 16.