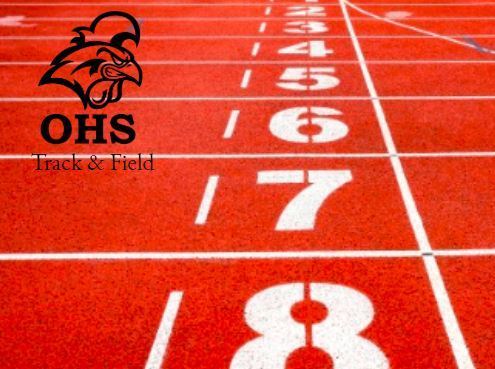 Track Teams Get Season Started at UNK Indoor Meet
Mike Bechtold
Monday, March 18, 2019
The Ord High School track and field teams got their season started this last Saturday as they took part in the annual UNK indoor high school invitational. The Chanticleers competed with a limited squad as only the juniors and seniors compete in this meet for the Chants each year. In the team races, the girls finished 14th out of 15 teams with 8 points while the boys were 11th out of 13 teams with 4 points. "Obviously we have some work to do as the season progresses", Coach Derry Trampe stated. "We are not in very good shape yet because the weather has not really allowed us to train like we would like to at this point in the season but I am pretty sure almost every other team in the state is in the same position we are in. We will be a much better team by the end of the season which is what we want to every year. Our kids will work hard and we will be a lot better by the time May gets here." Adams Central won the team title in a meet which had teams from Class B, C, and D competing. The Patriots won the meet with 75 points while Holdrege was a distant second with 49 points. In the boys' team race, Hastings high won the meet with 97 points while Holdrege was second with 74 points. Rounding out the team scoring in the girls' division were: South Loup (42), Kearney Catholic (38), Ainsworth (37.5), Bertrand (34), Cozad (31), Elm Creek (28), Superior (26), Burwell (21.5), Doniphan-Trumbull (21), Twin Loup (11), Dundy County (11), and Franklin (1). Finishing out the scoring in the boys' team race were: Kearney Catholic (60), Adams Central (56), South Loup (43), Bertrand (33), Ainsworth (25), Loomis (16), Doniphan-Trumbull (14), Cozad (9), Dundy County (2), and Superior (1).
Morgan Ritz scored all the points for the girls as she finished second in the 3200 to bring home a silver medal. Ritz finished the race in 14:22.74 for her medal. "Morgan ran a pretty good race for not having a lot of training up to this point", Coach Trampe said. "I thought she looked strong throughout the race and just needs a little more conditioning to be a strong competitor this season." Two boys scored points with Colton Rowse finishing fifth in the 3200 to earn 2 points and Austin Trejo placing fifth in the 400 to earn the other 2 points for the team. "I was pleasantly surprised with how Austin did in the 400", Trampe stated. "He ran a really solid race indoors and nearly broke his personal best time in the first meet of the season. I look for a lot of good things from him this season. Colton looked really strong for a lot of the race and then started to fall off pace in the second half of the race. However, he rebounded and finished strong to finish in the top six and score for the team. He is another athlete that I am looking for a lot of good things from this year." Although the did not place in the meet, Jesus Loya showed a lot of improvement from last season as he added nearly two feet to his personal best mark in the shot put. Loya had a throw of 40' 10.5" to finish in 10th place in the event. "Jesus has a lot of potential to have a great year in the shot put", Trampe noted. "He has improved on his quickness and he is really getting stronger. I am really looking forward to seeing what he can accomplish before the end of the season."
Additional Ord results from the meet are as follows: Girls: 55-meter dash—Kailey Bruha (8.22), Kaylee Klanecky (8.77); 200-meter dash—Kailey Bruha (29.86), Kaylee Klanecky (32.08); Mile Run—Maddie Bengston (7:01.15); 55-meter HH—Cierra Vanosdall (10.58); High jump—Reilly Peetz (4' 4"); Long jump—Cierra Vanosdall (13' 2.25"); Shot put—Sydney DeBoer (23' 11.75"), Deja Timmerman (21' 9.5"), Lexi Haglan (21' 4"). Boys: 55-meter dash—Austin Trejo (7.14), Jaden Reilly (7.15), Lukas Kucera (8.21); 200-meter dash—Solomon Campise (26.34), Mitchell Knapp (26.37), Riley Warner (26.80); 400—meter dash—Tyson Skinner (59.58); 55-meter HH—Mitchell Knapp (9.63); 4 X 400 relay—Austin Trejo, Jaden Reilly, Solomon Campise, Riley Warner (3:58.65); High Jump—Mitchell Knapp (5' 0"), Tyson Skinner (MOH 5' 0"); Long jump—Jaden Reilly (17' 3.5"), Solomon Campise (16' 5.75"); Shot put—Hayden Grint (40' 5").