The Ord FCCLA Chapter recently attended the Nebraska State FCCLA Leadership Conference on April 3-5th, 2022 in Lincoln, Nebraska. At the conference, Ord had 14 students in attendance at the conference, and five students that were competing in STAR Event Projects. Over 100 Nebraska FCCLA Chapters were in attendance with over 1,500 student members.
At the conference, students had the opportunity to attend break-out sessions to better their leadership and communication skills and network with future colleges, employers and organizations at the FCCLA Opportunity Fair . High School Ord FCCLA Students attended a tour of UNL Campus on an "FCS Career Day" exploration tour. They met with many professors, toured the campus, and got to see the many Family and Consumer Sciences pathways that UNL offers. Junior High Ord FCCLA Students volunteered alongside other Nebraska FCCLA members to help serve meals at People's City Mission in Lincoln during the conference. On Tuesday, Ord FCCLA Members also had a private tour of the UNL Engler Entrepreneurship Program with Ord High School alumni, Halle Ramsey.
On Monday of the conference, our five students had the opportunity to compete in STAR Projects at the State Level. STAR stands for Students Taking Action with Recognition. The students that participated in STAR Projects have been diligently working on their projects for months and their hard work has definitely paid off. At state, students who participate in STAR Projects have the opportunity to compete for a spot to present and compete at the National FCCLA Leadership Conference in the summer in San Diego, California. Our chapter had two groups of students qualify for the National Leadership Conference at the State Leadership Conference.
In March, our chapter had also found out that we had an additional two groups of students qualify in Online STAR Event Projects for the National Leadership Conference as well, bringing our total number of nationally qualifying students to seven, a school and chapter record!
To qualify for Nationals in the regular STAR Event Projects at state, students must receive at least a silver medal and be champion or runner-up in their event and level. In the Online STAR Event Projects, students submit an online link to their project for evaluation and are judged against every chapter in the United States. The top 15 projects in the nation are then invited and qualify to present at the National Leadership Conference.
The students that qualified and participated in STAR projects include the following: Lillie Shoemaker and Aracely Negrete- State Champion, Gold Medal in Chapter in Review- Level 1: National Qualifier, Hannah Klein- Runner-Up, Gold Medal- Career Investigation, Level 2- National Qualifier, Annabel Zaruba and Kaci Bruha- Gold Medal, FCCLA Chapter Website- Level 2, Online STAR Event National Qualifier, Avery Ladwig and Azia Giron- Silver Medal, Instructional Video Design- Level 1, Online STAR Event National Qualifier, Jazmen Birkel- Bronze Medal, Professional Presentation- Level 3, and Trinity Chatfield- Bronze Medal, Professional Presentation- Level 1.
FCCLA offers many opportunities for students to become better role models and leaders in their communities, schools, and chapters. In January, our own Ord FCCLA Chapter Secretary, Hannah Klein, applied for a Nebraska State Peer Officer (SPOT) position. At the Peer Education Conference in February, Klein found out that she was a finalist candidate for the Career Leader Team of the Nebraska SPOT Council. From there, Klein prepared a speech presentation educating peers about how to be employable and promotable on the job, which she then presented at the State Conference to a panel of judges as part of running for office. At state, Klein was also interviewed and took an FCCLA Knowledge exam as part of the Nebraska FCCLA SPOT application. On Tuesday morning, Hannah Klein was elected to serve as the 2022-2023 Nebraska State Peer Officer Historian of the Career Leader Team. Over the next year, Hannah will have the opportunity to represent our chapter, community and state at multiple FCCLA Conferences, present at Nebraska District Leadership Conventions, attend FCCLA Meetings as a delegate, and communicate with FCCLA Chapters all across Nebraska. Our chapter is incredibly proud of Hannah Klein for stepping out of her comfort zone to amplify her leadership potential and represent Nebraska FCCLA.
Ord FCCLA Chapter is so excited for our seven National Qualifiers to make history for the Ord FCCLA Chapter and community and will be preparing to attend the National Leadership Conference in June hosted in San Diego, California. Through FCCLA, students learn vital skills such as teamwork, leadership, communication, and the value of hard work. Our students that participate in FCCLA will become better leaders in their families, community, future careers and school through their involvement in FCCLA activities. To prepare to attend the conference, students will be fundraising these next few months. Our chapter is also seeking out in-kind donations and sponsorships of any value to help our student members have the opportunity to attend and compete at the National Leadership Conference. For more information about how you or your business can help, please contact Rachel Hornickel at rhornickel@ordps.org.
Pictured Left: Lillie Shoemaker (8th Grade) and Aracely Negrete (8th Grade)- Nebraska FCCLA State Champions Chapter in Review Display, Gold Medal- Level 1- National Qualifiers
Pictured Left: Hannah Klein (10th Grade) - Nebraska FCCLA Runner-Up, Gold Medal- Career Investigation Level 2- National Qualifier and Nebraska FCCLA SPOT Career Leader Team Historian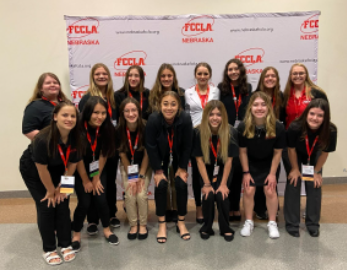 Pictured Left: Ord FCCLA Members attending State from L-R Back Row: Kaitlyn Flessner, Lillie Shoemaker, Azia Giron, Juls Gonzalez, Hannah Klein, Annabel Zaruba, Skylar Kokes, Advisor Rachel Hornickel
Front Row: Carmen Wagner, Aracely Negrete, Kaci Bruha, Trinity Chatfield, Alyssa Lawerence, Jazmen Birkel, Avery Ladwig