There is no General Admission for tonight's game in Burwell. Due to the NSAA 50% capacity regulation, the basketball games at Burwell Thursday Jan 14th have limited spectator tickets for both home and away teams. All Ord tickets have been allocated to allow for players' immediate family members and grandparents to attend. General Admission at the home basketball games in Ord on Friday Jan 15th we be allowed.

Calendar Adjustment Days Friday, January 29, 2021 Previously a 1:00 Dismissal and will now be a No Student Day. Ord hosts the wrestling invite this day and due to necessary restrictions for participants and fans, extra time is needed. Thursday, February 11, 2021 Previously a 1:00 Dismissal and will now be a No Student Day. Additional time is needed for PT Conferences.

Students are so excited to start school tomorrow that they are camping out in front of the school! Just kidding. Tomorrow marks the 3rd year of the Chanticleer Winter Conference at OHS. Teachers will present on topics such outdoor living, ice fishing, cribbage, and much more. We look forward to having students back tomorrow for the 2nd semester.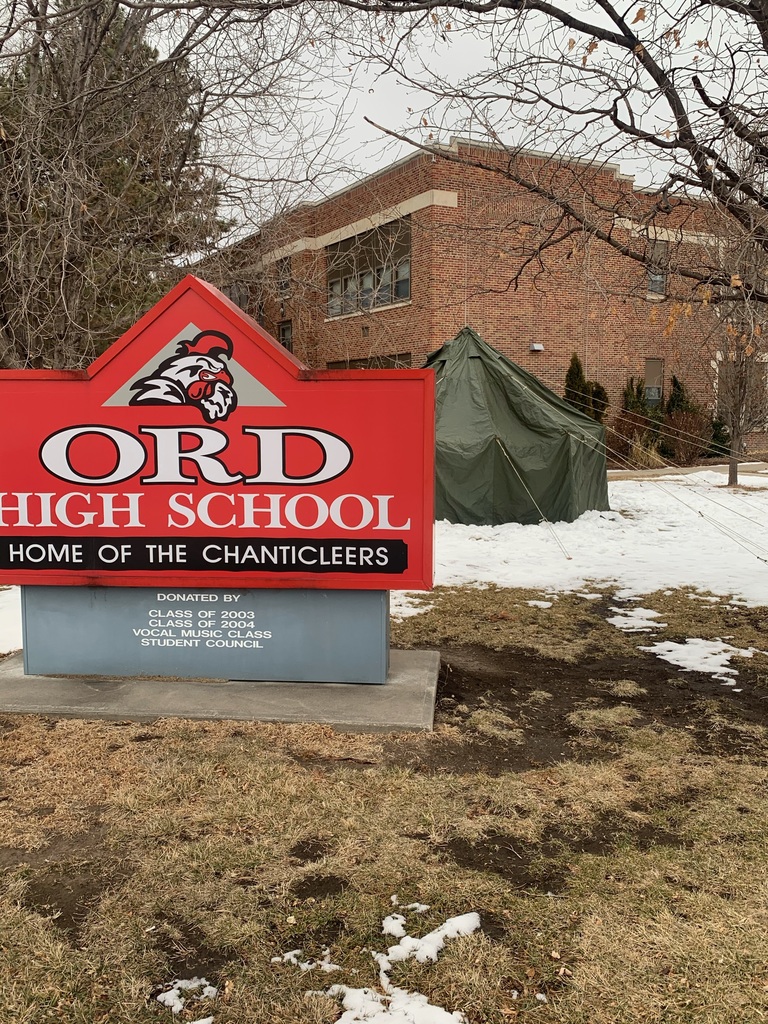 Per NSAA requirements and recommendations, Ord Public Schools will now be able to allow public spectator attendance at Winter Activities. Beginning January 4, fans will be able to attend home activities up to 50% capacity of the facility. All spectators will be required to wear face coverings that cover the nose and mouth and maintain 6 feet of distance between family units. Food will not be allowed in the gyms. These protocols may vary for specific activities and are subject to change. Go Chants!

Due to a low number of girls available to play in the 9/10 game in O'Neill on Monday, January 4, we will not play a girls game. The boys will still play in O'Neill on Monday and that game time will be at 6:00 pm.

The Ord Holiday Dual Wrestling tournament scheduled for December 29 has been postponed due to the forecast for a winter storm. The meet will be held on Saturday, January 2, 2021 at 1:00 pm.


Wrestlers finish third at Wood River. 8 medal winners wit 1 first, 2 seconds, 4 thirds, and 1 fourth. Congrats to Kelen Meyer on winning at 182.



We would like to update our families on calendar changes that affect the length of the upcoming Winter Break. We are so very thankful that we are able to maintain in-person learning this semester but we recognize the huge efforts that our staff have put into helping make it happen. The calendar adjustment days will change to No Student Days to allow all staff to have time to plan and prepare for the close of the 1st Semester and the start of the 2nd Semester. The days that will change to No Student Days are as follows: Monday December 21 Tuesday December 22 Tuesday January 5 **Wednesday January 6 will be a full day with regular dismissal time.



For those interested in watching the OHS performance of James and The Giant Peach at District Drama today in Bridgeport, here is the link to their performance. Performance time is 4:30 CST. Go Chants!
https://striv.tv/channel/bridgeport/



Chants win Class C-2 football championship 28-7 over Archbishop Bergan!

Chants lead 21-0 at half in state championship.